21st Apr 2022
Your Practice in the palm of your hand
Did you know we have an app? Well we do and it's an incredibly powerful tool to help you manage your practice and grow your business.
Our purpose built app puts your practice in the palm of your hand. We pride ourselves on providing incredible solutions that offer a brilliant user experience. We believe flexibility is crucial to providing such an experience. The flexibility to work in the ways you want to without constraints. And that is exactly what our mobile application does, it gives you access to your practice from anywhere at any time.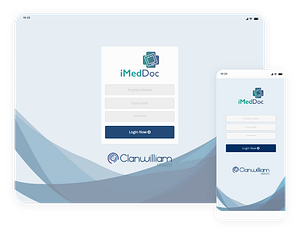 Available on both iOS android, our app allows you to remain connected to your practice via mobile and tablet devices. Manage patient records by viewing appointments, surgeries, letters, scan documents, upload imagery, record and upload dictations and much more.
You can access your Dynamic Dairies from the app. Keep track of your schedule and the schedules of you colleagues easily through the app. You can navigate backwards to review notes, scans and patient details of previous appointments or forwards to keep track of your calendar in the weeks and months ahead.
You can also view your accounts module through the mobile applications. Giving you anytime oversight on invoices, payments and receipts.
If you are interested in learning more about our purpose built practice management app get in touch today! We'll walk you through all the features and functionality of the app and our desktop solution.
Want to learn more?
Want to learn more about iMedDoc? Download our product brochure or book a demonstration with one of our experienced team members.
Download Brochure
Step 1 of 2
Close
Download your UK brochure here
Download your Ireland brochure here
Download your UK demo here
Download your Ireland demo here
Book demo
Step 1 of 2
Close
Download your UK brochure here
Download your Ireland brochure here
Download your UK demo here
Download your Ireland demo here